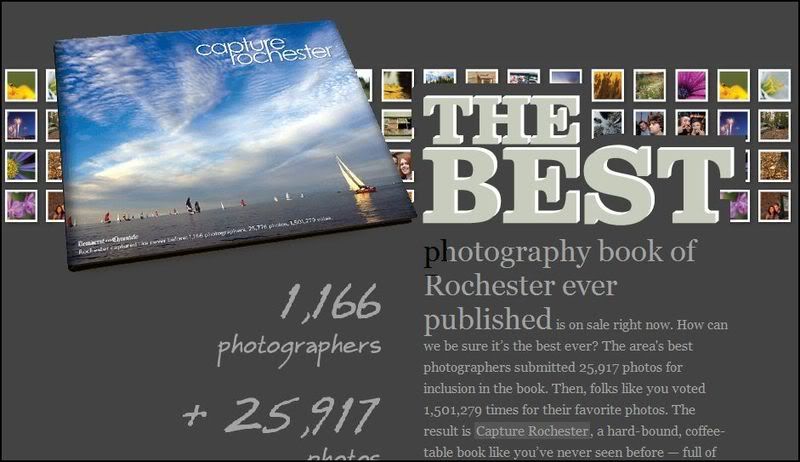 Yesterday my personal copy of the book 'Capture Rochester' arrived and i was very excited to have a look within. Quality is excellent and i was very happy with the product......The quality of the photography is fabulous and will be a delight to those who Capture Rochester Book and DVD.
Democrat and Chronicle is proud to announce a new era in book publishing: collaborative publishing. A book published for you, written by you, edited by you. 1,166 local photographers submitted 25,917 photos, then local folks voted 1,501,279 times to establish the best of the best, so Capture Rochester is truly the best of Rochester.
A limited offer.
144 pages of Rochester goodness in a hard-bound coffee-table book. Best of you, best of Democrat and Chronicle, best of what makes us Rochester. Act now to take advantage of the special pre-sale discount of $10 off. Pre-order now, or read up on the details of the book/DVD combo.
A few book specs.
General info: Hard-bound, heirloom-quality sewn binding. Trim size: 11 inches by 8.5 inches. Inside pages: 144 full-color pages, acid-free, coated stock. Cover: Dust-jacket, coated stock. Price: Retail, $39.95;